No Time to Quit: Life in a Broken Package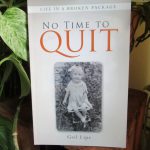 "This book is a perfect read for parents of preemies, for professionals and for former preemies themselves. It serves as a reminder that preemies are tough in spirit and can lead incredible lives regardless of any challenge placed before them."
– Preemieworld
Surviving a premature birth in 1932 was no small feat for Gail Johnson. Nearly three times larger than she, her twin died first. Then her body decided it had enough, and her heart stopped. The nurse ignored instructions to call the morgue and worked over the tiny, one-pound-nine-ounce body, breathing life back into it.
The fragility of Gail's introduction into this world was only the beginning. In those early moments her brain was injured. She has cerebral palsy that was not diagnosed until she was four years old.
Gail's indomitable spirit has been shining through her broken body from the beginning. When others would have given up, her wise parents nurtured and challenged that spirit to keep her moving forward.
No Time to Quit takes you on a journey through the major challenges and events of Gail's Life.
The format of this book may be different than you expect. Each chapter is followed with author commentary that sometimes fills in the gaps, and other times adds lessons learned.